---
Popular Ski Lessons in Val d'Isère:
Popular Ski Schools in Val d'Isère:
SkiBro offers full visibility of Val d'Isère's best ski schools.  These schools are most popular with our guests:
Evolution2 Ski School Val d'Isère
Evolution 2 is more than just a ski and adventure school!
Founded 30 years ago in Val d'Isère their ski and outdoor instructors are dedicated to delivering outstanding tuition, whatever your level and expectations. Whether it's on skis, snowboard or telemark; alone or in a group; beginner, intermediate or advanced; children, teenagers or adults; Evolution2 Val d'Isère has the perfect product for you!
Discover the joys of outdoor sports in a professional and friendly environment.
Where is Evolution2 Val d'Isère's Meeting Point?
Evolution2's meeting point for all group and private classes is located in front of the Yule hotel on the snowfront of Val Village.
Prosneige Ski School Val d'Isère
From beginner ski lessons to off-piste ski guiding the newest branch of the popular Prosneige ski school offers outstanding private ski lessons as well as budget-friendly group lessons for kids, teens and adults. 
Founded 20 years ago in Val Thorens, Prosneige prides themselves on only hiring bilingual English and French speaking instructors and very small group class sizes with a maximum of 6 students in each class, and limited to a maximum of 3 students per instructor for very young children.
Where is Proneige Val d'Isère's Meeting Point?
Prosneige's meeting point is just outside their office on the Dolomites snow square in Val Village.  Look for the green flags.
TDC Ski School Val d'Isère
TDCSki is a specialist ski school founded on the principle of helping you really improve your skiing and snowboarding in an enjoyable relaxed environment.  They believe the optimal way to truly progress in a group lesson is through their clinic format: small groups with a maximum class size of six, which allow personalised coaching and specific attention to your skiing. 
With TDC, you'll get individualised feedback and interaction from your instructor, and they say three sessions with TDC is all you'll need to make lasting changes to your understanding and your skiing performance. This leaves you free to spend the rest of your holiday purposefully practicing what you've learnt, while impressing your friends and family with the fast-track improvements you've made.
Where is TDC Val d'Isère's Meeting Point?
TDC's meeting point is next to the large piste map on the snowfront by the metal ramp leading to the Olympic Cable Car.
Progression Ski School Val d'Isère
Progression Ski & Snowboard School was set up in 2006 and has grown ever since to be regarded as one of the leading ski & snowboard schools in the Alps. Now providing lessons in Val d'Isère, Tignes, Ste Foy, Les Gets, Morzine and the Chamonix Valley, Progression has grown year on year on the back of great customer care and instruction.
As children learn differently to adults, Progression's highly experienced instructors adjust the inputs to achieve the desired outcomes.  All of Progression's instructors speak English as their first language, or are fully fluent in English. They also keep an eye on the little things like carrying hand-warmers and suncream.
Where is Progression Ski School's Meeting Point?
Progression Ski School will contact you post-booking to arrange a suitable meeting point.
Learn to Ski and Snowboard in Val d'Isère: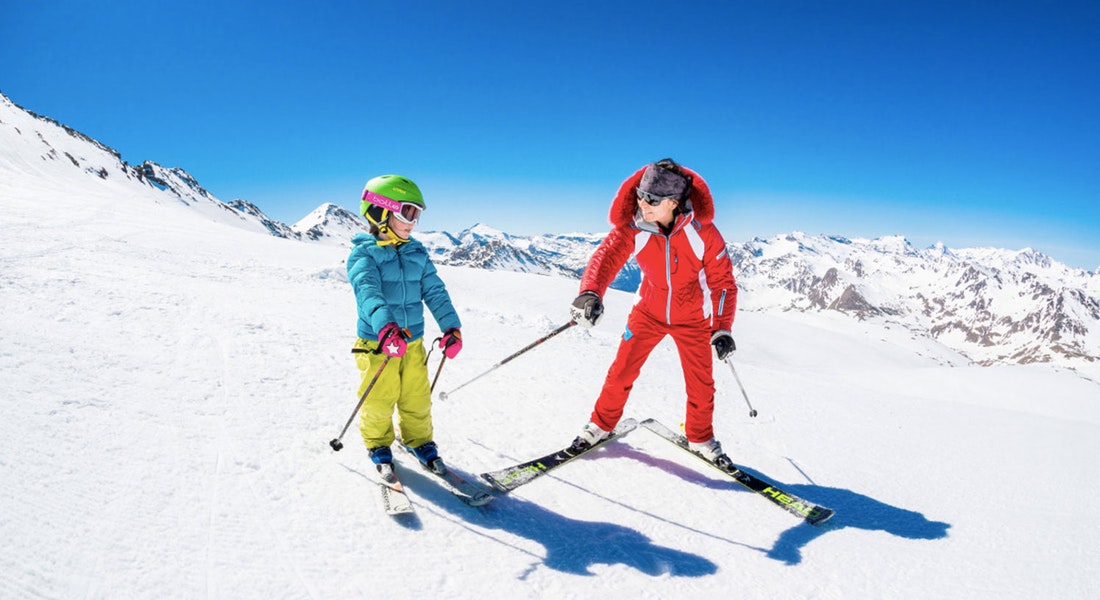 One of the most famous ski resorts in the world, Val d'Isère is also regarded by many as the best all around ski resort in the world. Linking with the neighbouring resort of Tignes to form the Val d'Isère-Tignes ski area (formerly known as the Espace Killy) - is a true paradise for skiers and snowboarders of all levels.
Located at the end of the Tarentaise Valley the village of Val d'Isère sits at an altitude of 1850m above sea level, with slopes on the Pissailas Glacier reaching nearly 3400m, this high-altitude area offers one of the longest ski seasons in Europe, with reliable snow from late November through to early May.
Val d'Isère is best for: 
Everyone with a decent budget! Skiers from beginners to expert powder-hounds, fashionistas and gourmands, hard-partying ski bums; Val d'Isère truly has something for everyone but it's not always cheap, even by ski resort standards...  
Val d'Isère highlights:
Guaranteed snow from late-November to early-May, slopes for every level of skier and snowboarder, as well as world-class lift-served off-piste and an outstanding restaurant and nightlife scene.
Children's ski lessons in Val d'Isère
Children can begin to ski in small group classes from the age of three in Val d'Isère with top schools like Evolution2, Prosneige and Progression Ski.  Most ski schools and independent ski instructors will also begin to teach children from the age of three in private classes.
Lessons for very young children and beginners all take place directly on the snowfront in Val d'Isère on the free nursery slopes where they'll learn the basics of skiing from how to stand on skis, to snowplough turns, to how the all important lesson of how to stop! 
Older children and those going beyond their first steps on snow may venture to the beginner's area on top of the Solaise sector which features very short 'bunny hill' type slopes to long, undulating green and blue runs which are fantastic place for children to progress.
That's not to say that all children's ski lessons are tame!  Once kids have been skiing for a couple of weeks they can begin racing or even take their first laps through the snowpark.  
Many children's lessons will also end the week with a medal or a certificate for your child to take home as a souvenir of their time on the snow.
Beginner's ski lessons in Val d'Isère
Although you won't find Val d'Isère on many "Best Resorts for Beginners" lists, it is arguably one of the best places in the Alps to learn how to ski.
Despite a wealth of excellent off-piste and expert terrain, Val d'Isère has three dedicated beginner's areas - two of which are completely free to use, and one which is available to access with a reduced-price lift pass.
The main snowfront aka. The Rond-Point-des-Pistes is the flat section where you'll find two of Val d'Isère's main lifts - the Olympique and the Solaise gondolas - as well as the largest of the free beginner's areas.  
Serviced by a free chair lift (Village) and a free drag lift (Savonette) this sector has some short, gentle inclines perfectly suited to learning the basics of skiing.  If you're staying in the hamlet of La Daille, just out of the main town, you'll also find a free drag lift servicing a small slope which will inevitably be just steps away from your door.
Rather than resign beginners to a life at resort level, Val d'Isère - unlike many other resorts - also offers an expansive beginners area (with astounding views) 2550m above sea level!  
In the summer of 2016 Val d'Isère completely re-developed the top of the Solaise sector and transformed it into a beginners paradise with very gentle short runs served by magic-carpet lifts, long green runs like the Madeleine which is completely reserved for those new to skiing, and several undulating blue runs which are an ideal place to get your first taste for a bit more speed.  This entire area is accessible on the reduced-price Solaise lift pass for just €30 per day.
Ski and Snowboard Guide to Val d'Isère:
Although they already boasted a fantastic lift system, Val d'Isère really began to step things up in 2016/2017 when the aging Solaise Express chairlift was replaced with a state-of-the-art 10-seater gondola featuring heated seats and free WiFi. This new lift has increased uphill capacity by around 40%, meaning there are fewer lineups during busy periods than there used to be. 
Along with the installation of the new gondola winter 16/17 also saw the creation of a brand-new beginner's area at the top of the Solaise whilst in winter 18/19 an identical gondola was installed in the La Daille area of the Bellevarde ski area. 
Along with Bellevarde and Solaise, Le Fornet rounds out the three separate areas that comprise Val d'Isère's skiable domain. The Bellevarde area can be accessed either from La Daille or the main snowfront in the centre of town.
The snowfront is also the main access point for the Solaise area, although you can also use the Laisinant Express to join the Solaise. The Fornet sector is generally accessed by taking a free shuttle bus to the far end of town and hopping on the Fornet Cable Car but the Laisinant Express can also be used. 
First-time and beginner skiers:
Despite its reputation as a difficult resort Val d'Isère actually boasts excellent beginner's facilities with two free lifts on the snowfront (the Village chairlift and the Savonette drag lift) providing access to a small nursery slope.
The top of the Solaise has been re-invented as a beginner's paradise with sunshine all day long and stunning views allowing even first-timers to truly appreciate what being in the mountains is all about. You'll find a bunny slope and some gentle green and blue slopes available on a reduced-rate beginner's lift pass.   
Intermediate skiers: 
Intermediates will likely enjoy themselves most on the Solaise sector as well as in the Fornet, including it's Pissaillas Glacier. One thing to watch out for in Val d'Isère is the true difficulty of the homeruns.
What is labelled as a blue would likely be a (difficult) red in another resort and the reds are closer to blacks. At the end of the day it's probably a better idea to take the lift down than it is to ski - especially with tired legs or a couple glasses of rosé in your system.   
Expert skiers: 
Advanced and expert skiers in Val d'Isère will find themselves spoilt for choice with famous black runs - like La Face de Bellevarde which hosted the men's downhill in the 1992 Olympics and is used every winter in the FIS World Cup 'Criterium de la Premiere Neige' - and some of the world's best lift-served off piste. From the Grand Vallon, to Pisteurs Couloir off-piste aficionados are sure to find something to tickle their fancy.  
How much do ski lessons in Val d'Isère cost?
Group ski lessons for both children and adults in Val d'Isère start at €15.33/hour when booked as part of a full week course.
Private ski lessons begin at €65 per hour for both children and adults.  Some schools also offer lunch or ski hire as an add-on to their lessons. These options will be listed on the course product cards.
Ski Hire in Val d'Isère
Instead of bringing your own skis or snowboard from home you can pre-order online from Alpin Resorts to make sure you have the season's best ski gear waiting for you when you arrive in resort.  Use code SKIBRO2020 and save up to 60% on equipment hire - easy peasy!
Val d'Isère Lift Pass Prices
A one-day adult pass for the full Val d'Isère-Tignes ski area costs €61 per day or €304 per 6-day week.  Children aged 5-13 and seniors aged 65-74 will pay €49 and €244 respectively. A beginner's pass for the Solaise area costs €30 per day.
You can order you lift passes online here, or buy them from any of the four lift-pass offices in resort: La Daille, Val Village, Solaise, or Fornet.  Children under 5 and seniors 75 and older ski for free in Val d'Isère.
What's the easiest way to get to Val d'Isère?
The usual access point to Val d'Isère is Geneva Airport which is 222km and a three hour drive away.  Lyon St. Exupery Airport is a similar distance from Val d'Isère and also offers good international connections.  Chambery Airport is a shorter transfer at just 144km and under two hours on the road but offers fewer regular flights.  Once you are on the ground, SnowDrone is a great option for private or shared transfers.
About Val d'Isère
Due to the largest snow-making facility in Europe - the Snow Factory - Val d'Isère's lift company actually guarantees snow cover for the entire ski season, although due to a unique microclimate that hoovers up snowfall from various weather systems the reality is that the snow canon system is more of a fail-safe than it is a crutch. 
The ski area is renowned for its varied pistes and world class lift-served off piste terrain, and recently has invested heavily in state-of the art beginners' facilities which now rival anywhere on the planet. The village of Val d'Isère itself is largely consolidated around the bustling high-street where you'll find an amazing array of shops, restaurants, bars, nightclubs, hotels and spas. 
The high street is well served by the free 'red train' shuttle bus which will take you all the way from La Daille to Le Fornet and back frequently from about 8 am until 1:30am. Other satellite villages like Le Joseray and Le Chatellard are served by the yellow and blue 'trains' which run every 20 minutes or so and finish their service in the early evening. 
Val d'Isère boasts a wealth of superb independent instructors and ski schools - more than just about any resort in the world, and you won't have any trouble finding English-speaking ski instructors for any discipline from beginner ski lessons, small group camps and courses for those looking to tackle Val d'Isère's extensive backcountry (top-tip: many schools in Val d Isère will include avalanche safety equipment like ABS airbags in their course fees).
FAQ's about ski lessons in Val d'Isère
How do I find the right lessons or activity for me in Val d'Isère?
By default our results page will display a full list of all available activities in Val d'Isère.  Using the filters on the left-hand side of the page will quickly reduce the list of results to courses that perfectly fit your needs.  For example to find beginner kids ski lessons you simply select 'Skiing', 'Beginner', and 'Children'.
Each provider on SkiBro has a comprehensive profile page, including profile video, detailed bio and past client reviews. Simply click on their profiles so find out exactly who they are and what they're about.
Where do I meet my instructor or group in Val d'Isère?
When you make your booking, you'll be able to choose a meeting point with a description. For ski school classes, there is generally a single meeting meeting point, which is also indicated in the information about the class. In both cases, the meeting point is included on the booking confirmation email and will be further confirmed by your chosen provider.
When is the best time to book ski lessons in Val d'Isère?
Although SkiBro is a fantastic way to book your ski lessons at the last minute, booking in advance is preferable in order to ensure you get your desired lessons, dates and times.  This is especially true during school holidays like Christmas, New Year, half-term and Easter when demand is very high and lessons often sell out months in advance. With SkiBro's hassle-free cancellation policy you won't be penalised for booking early should your plans change.
How do I choose the correct ability level?
After choosing your desired lesson you will be asked to pick your level from a simple drop-down scale of 1 to 10.  Each level offers a brief description which will accurately inform your provider of your true ability level. Should your school or instructor need any more information, they will contact you directly.
What is the difference between group lessons and a private ski or snowboard instructor?
When you book a private lesson you are booking the exclusive use of an instructors time for yourself, your family, or your group of friends.
When booking a group lesson you a booking a space in a structured group course where you will be taught alongside other skiers/snowboarders of a similar ability level.
Neither group nor private lessons are better than the other - each choice has its own benefits as you can see in our blog post Group vs Private Lessons.
How many people will there be in a group ski lesson?
The number of people in each lesson depends on the school, the course and the dates.  The maximum number of people for each course will be detailed on its product card.
What is the difference between a ski school and an independent instructor?
Ski Schools are a formal organisation with the legal authority to employ ski and snowboard instructors.  Ski schools in Val d'Isère offer a wide variety of ski and snowboard products including group and private lessons.
Most independent instructors on SkiBro work for themselves, although some work in loose collectives. Generally speaking, independent instructors will only offer private lessons.
Are all schools and independent instructors on SkiBro fully qualified & certified?
Yes!  We perform stringent checks to ensure that every provider listed on SkiBro has the necessary legal qualifications, governing body certifications and insurance to operate in their area.
What do I do if I have a question about an activity before booking?
If you're not sure about an activity, you can have a look at this page to learn more. If you're still not sure, please drop us a line on Live Chat and we'll be delighted to help.
Where can I rent ski and snowboard equipment in Val d'Isère?
There are several ski rental shops in Val d'Isère.  Reserving equipment hire in advance with our partner Alpin Resorts will can be up to 60% cheaper than booking last-minute in resort.  Using the code SKIBRO2020 will save you an additional 5%.
Which is a better fit for children - group ski lessons or private ski instruction?
Generally speaking, young children and beginners are best served in group lessons; having fun with other children is a great way for children to learn the magic of skiing.  If your children are slightly older and/or very sporty then private lessons could be a better fit as they won't be held back by the rest of the group as they progress. Private lessons are also sometimes a better fit for very shy children.
When should children start ski lessons?
Many ski schools will take children from the age of three onwards, whilst others take kids aged four and up.
Can I share a private lesson with my family/friends/children?
Yes!  When booking a private instructor you are booking his or her time exclusively for the use of yourself and the rest of your group.  A lesson with a private instructor is a great way for groups of mixed ability levels to ski together and are also a fantastic option for families.
What is included with my ski or snowboard lesson in Val d'Isère?
Unless noted on the activity card, ski and snowboard lessons only include the tuition.
If an instructor, guide or school provides any extras - such as equipment hire or meals at lunch - this will be indicated in their profile.
Some instructors take photos, provide video analysis and offer other added value. Look out for this in their profiles as well.
Do lessons in Val d'Isère include a lift pass?
Lift passes are not included with ski or snowboard lessons in Val d'Isère.
What lift pass will I need for my lessons in Val d'Isère?
Depending on your chosen activity, requirements will vary - certain beginner classes may not require a pass at all!  If you are uncertain as to which ski pass you will require simply get in touch with your chosen ski school or instructor and they will be happy to advise you.
What happens if I'm in the wrong group?
SkiBro and our partner schools do our best to correctly assess your ability level during the booking process and our process is highly accurate.
In the rare circumstance that your instructor feels that you are in the wrong class it is often possible to move to a class better suited to your needs.
What is SkiBro's cancellation policy?
Cancellation is absolutely free of charge with no-questions-asked up to 14 days before the start of your booking.  From 14 to 7 days before your booking you will be charged 50% of your total lesson price. Within 7 days of your lesson, any cancellations are at the discretion of your lesson provider.
What is SkiBro's Best-Price Guarantee?
We ensure our customers always pay the lowest possible price for their chosen activity.  If, at the time of your booking, you find the same activity available anywhere else online for less we'll refund you 150% of the difference!